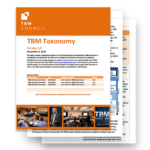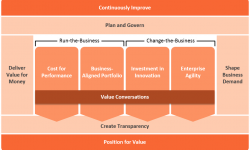 The Industry's First Hierarchical Taxonomy of IT Services, Towers, and Cost Sources
To promote alignment between IT, Finance, and Business Unit leaders, TBM provides a standard taxonomy to describe cost sources, technologies, IT resources (IT towers), applications, and services. Just as businesses rely on generally accepted accounting principles (or GAAP) to drive standard practices for financial reporting—and thus comparability between financial statements—the TBM taxonomy provides a generally accepted way of categorizing and reporting IT costs and other metrics.
The TBM Taxonomy is governed and maintained by the TBM Council Board Committee on Standards, chaired by Atticus Tysen, SVP & CIO at Intuit. The committee's fifteen voting members include industry representatives from organizations like MasterCard, ExxonMobil, Northrop Grumman, Hearst, CoBank, MetLife, Cox Enterprises, Marriott, APS, Newport News Shipbuilding, Cisco, DXC Technologies, Intermountain Health and Red Hat. The committee also includes non-voting members from the US General Services Administration, KPMG, ISG, Apptio, Flexera and Washington State.
Like any formalized approach, TBM offers a set of tools that can be adopted by any enterprise. But unlike the tools of many other approaches, these have been forged in practice, not just theory. The TBM Council, its founder and technical advisor, Apptio, and partners like ISG, KPMG, EY, Deloitte and McKinsey, have collaborated over the last several years through real-world implementations of TBM, industry workgroups, research projects, and product collaborations to precisely define and refine the tools for managing the business of IT.
In TBM Connect, we offer resources for the following two tools:
The TBM framework: The core elements — the organizational traits, management disciplines, and value conversations that make up a mature TBM program
The TBM taxonomy: A common language that normalizes tech-speak and business-speak to connect IT and the business
These resources are openly available to the TBM Council members to use with proper attribution and respect of trademarks and copyrights.
TBM Council Standards Committee
As part of our standardization initiatives, the TBM Council Standards Committee, chaired by Atticus Tysen, SVP & CIO at Intuit, will be hosting two virtual events every month. These events are designed to inform the TBM Council members and get their input on TBM Standards and Research.
The first event of the month will be an informative webinar on a specific topic led by a panel of Standards Committee members.
The second event of the month will be an Open Forum as a follow-up to the informative webinar. During the Open Forum, we encourage open dialogue from any and all who attend.
Upcoming Committee Events
TBM Council Workgroups
Governed by the Standards Committee, the TBM Council Workgroups are designed to foster collaboration between senior technology leaders and TBM Council partners. They are a great opportunity to connect with your global IT peers to share insights and gain knowledge. 
The purpose of the workgroups is to develop thought leadership, frameworks, competency models, research, industry-specific TBM taxonomies, and other deliverables to advance the IT profession and promote TBM adoption worldwide.