Reserve your spot for the kickoff of next year's TBM Council Awards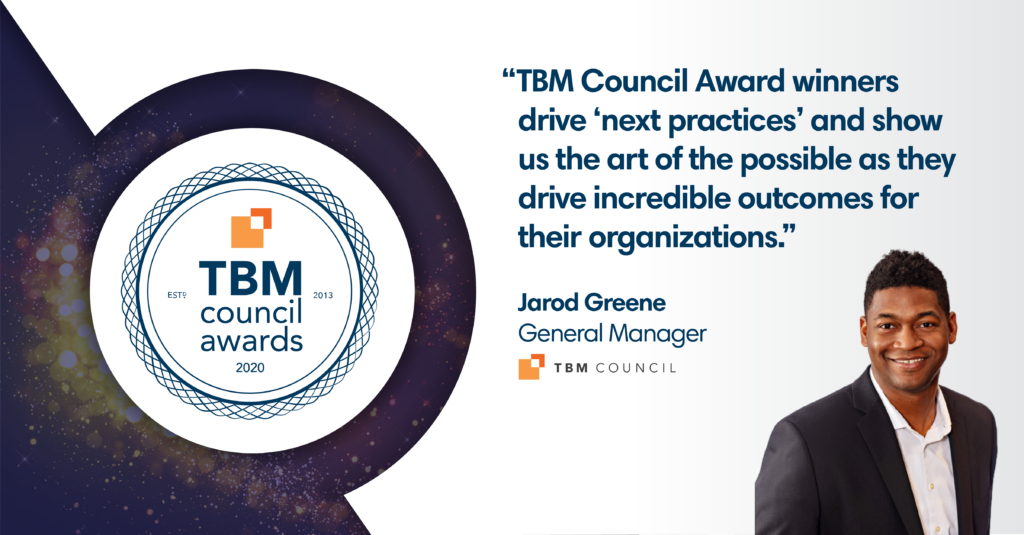 Celebrating best-of-the-best TBM teams across the globe
The coveted TBM Council Awards have recognized the innovation and contribution of IT and finance leaders for 7 consecutive years. As we embark on the 8th year, we want to hear stories of TBM excellence, where organizations have achieved demonstrable outcomes across nine award categories. The Award categories are built around the pillars of Technology Business Management.
The TBM Council will sponsor and produce a written case study and video testimonial for all award finalists to publicly recognize their work amongst the entire TBM community.
Winners will be announced at the virtual Technology Business Management (TBM) Conference 2020 on Tuesday, November 10. 
Nominations are closed
TBM Council Awards 2020 Categories

Cloud & Hybrid Business Excellence
Nominees power innovation using public cloud or a hybrid public/private cloud approach. They master the unit economics of cloud and have developed a sound cloud migration strategy. They continuously optimize cloud and hybrid investments.

Financial Business Excellence
Nominees automate a collaborative budgeting, forecasting, and variance analysis process for their tech organization. They align financial plans with business priorities and adjust plans as priorities change to reduce risk and capitalize on market opportunities.

Vendor Management Excellence
Nominees drive efficiency and excellence within their IT vendor portfolio, aligning spend to business objectives. They drive savings via consolidation, manage POs and contract spending, and regularly optimize their contract commitments.

Apps & Service Management Excellence
Nominees measure and report the TCO for their applications and services. They use this knowledge to drive a rationalization initiative yielding measurable results to impact the bottom line of the organization. They have simplified their app or service portfolios.

Strategic Investment Excellence
Nominees embrace project and product centric models to deliver software products/services that improve business outcomes. They've shifted from waterfall to Agile, while capitalizing development, optimizing development effectiveness and improving team utilization​.

Business Value Excellence
Nominees have implemented a Bill of IT to shape demand for IT services and improve relationships with their business partners by articulating consumption and cost, and offering more cost-effective alternatives to meet their business needs.

Accelerating Excellence
This award category recognizes the organization's exemplary work in adopting Apptio's TBM solutions in under 18 months.

Overall Excellence
The winner is recognized as an organization that has put all the pieces of TBM together with urgency, speed, and quality—all to move beyond compliance and to spend justification.

Innovation Excellence
The winner in this category adopts a broad set of TBM solutions across the enterprise, optimizes technology spend, and fundamentally changes the dialogue between IT and the business.